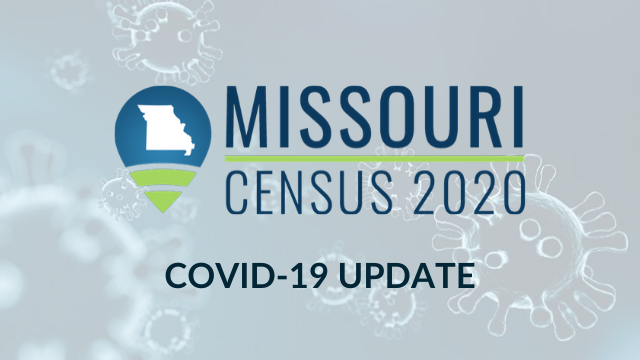 Amidst the COVID-19 pandemic, the 2020 Census is underway and more households across Missouri are responding every day. Fifty percent of Missouri's households have responded to date, compared to 48 percent of the nation as a whole. While the U.S. Census Bureau is making some adjustments to its operations to protect the health and safety of the public and its employees, the response period for the vast majority of Americans is not delayed, suspended or cancelled. Online, phone and mailed self-responses will continue throughout the data collection process. It is important for Missourians to know that now is still the time to respond to the 2020 Census.
In light of the COVID-19 outbreak, the U.S. Census Bureau is adjusting certain in-person 2020 Census operations, in order to:

• Protect the health and safety of the American public and Census Bureau employees;
• Implement guidance from Federal, State, and local authorities; and
• Ensure a complete and accurate count of all communities.

Accordingly, the Census Bureau temporarily suspended in-person activities in March. Steps are already being taken to reactivate offices in Kansas City, Springfield and St. Louis beginning June 1, 2020. Field data collection activities like Update-Leave, Non-Response Follow-Up, and Group Quarters Enumeration will begin shortly thereafter. The Bureau assures us that all in-person activities, including all interaction with the public, enumeration, office work, and processing activities, will incorporate the most current guidance to promote the health and safety of staff and the public. This will include recommended personal protective equipment (PPE) and social distancing practices.
Under this plan, the Census Bureau will extend the window for self-response to October 31, 2020. However, if a household does not respond online, by mail or by phone, a Census Bureau employee may be knocking on their door as early as June 1st. Therefore, our message remains the same: Respond to the 2020 Census today- Because Missouri Counts!
Your Missouri 2020 Complete Count Committee